Contribuição propedeutica ao ensino da teoria da arquitetura
Contribuição propedeutica ao ensino da teoria da arquitetura
Lina Bo Bardi
Habitat Editôra Ltda., São Paulo; 1ª edição, 1957
CDD 720.7 B246c
edition: português
paperback
96 p
18 x 28 x 0,6 cm
300 g
illustrated
B&W
photos
drawings
(teoria da arquitetura)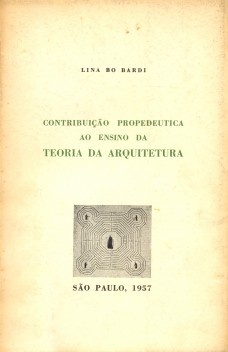 about the book
Tese apresentada ao Concurso de Cadeira de Teoria de Arquitetura na Faculdade de Arquitetura e Urbanismo da Universidade de São Paulo.
about the author
Lina Bo Bardi
Roma,1914-São Paulo,1992. Arquiteta modernista ítalo-brasileira Foi casada com o crítico de arte Pietro Maria Bardi. Dentre suas principais obras se destacam a sede do MASP, o SESC Pompéia e a Casa de Vidro.
how to quote
BARDI, Lina Bo.
Contribuição propedeutica ao ensino da teoria da arquitetura
. Habitat Editôra Ltda., São Paulo; 1ª edição, 1957.
comments