Vivências com a arquitetura tradicional do Brasil
Vivências com a arquitetura tradicional do Brasil
registros de uma experiência técnica e didática
Júlio Nicolau Barros de Curtis
Editora Ritter dos Reis, Porto Alegre; 1ª edição, 2003
edition: português
paperback
496 p
20,5 x 20,5 cm
1200 g
illustrated
B&W
photos
drawings
ISBN 85-88244-05-5
CDD 724.981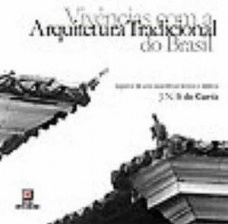 about the book
Este livro é o registro da trajetória de Julio Curtis, uma das mais significativas trajetórias de um brasileiro comprometido com a preservação do patrimônio cultural de seu pais. Trata-se de um testemunho de vida dedicada a este objetivo, como astuto observador de paisagem, viajante, arquiteto e professor.
about the author
Júlio Nicolau Barros de Curtis

how to quote
CURTIS, Júlio Nicolau Barros de.
Vivências com a arquitetura tradicional do Brasil
.
registros de uma experiência técnica e didática
. Porto Alegre, Editora Ritter dos Reis, 2003.
comments
Vivências com a arquitetura tradicional do Brasil
outros livros
share

Editora Ritter dos Reis, 2003