Aprendendo com Las Vegas
Aprendendo com Las Vegas
Robert Venturi, Denise Scott Brown and Steven Izenour
Coleção Face Norte

Cosac Naify, São Paulo; 1ª edição, 2003
original title: Learning from Vegas
translator: Pedro Maia Soares
CDD 720.1 V469a
edition: português
paperback
224 p
24 x 18 x 1,9 cm
700 g
illustrated
B&W
photos
drawings
ISBN 85-7503-193-7
(teoria da arquitetura)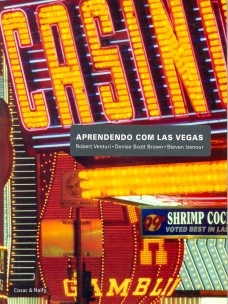 about the book
"Tratado de arquitetura da geração pop", o livro, publicado em 1972, traz uma pesquisa revolucionária do final dos anos 60: a discussão do simbolismo na arquitetura com base no estudo detalhado da strip de Las Vegas, o corredor comercial com seu horizonte repleto de placas e luminosos.
Num tom irônico, os autores fazem críticas explícitas à arquitetura moderna, que consideram dogmática e utópica, e procuram aprender com a paisagem existente e a arquitetura comercial, "feia e banal" de Las Vegas. A edição inclui posfácio dos autores, que revisitam a cidade americana 25 anos depois do trabalho.
about the authors
Robert Venturi
É arquiteto e professor da Universidade da Pensilvânia e da Universidade de Princeton. Atualmente é sócio, junto com sua esposa Denise Scott Brown, do escritório Venturi & Scott Brown Associates.
Denise Scott Brown
É arquiteta e urbanista, teórica e professora da Universidade da Pensilvânia, nos EUA. Suas obras e ideias influenciaram arquitetos e planejadores no mundo todo.
Steven Izenour
1940-2001. American architect, urbanist , theorist. The best known as co-author, with Robert Venturi and Denise Scott Brown of the influential post-modernist book Learning from Las Vegas. He was principal in the firm Venturi & Scott Brown.
how to quote
VENTURI, Robert; BROWN, Denise Scott; IZENOUR, Steven.
Aprendendo com Las Vegas
. Coleção Face Norte, volume 03. São Paulo, Cosac Naify, 2003.
comments
Aprendendo com Las Vegas
outros livros
share