A Invenção do cotidiano
A Invenção do cotidiano
Vol. 1: artes do fazer
Michel de Certeau
Vozes, ; 20ª edição, 2011
original title: L'invention du quotidien
translator: Vol. 1: Arts de faire
edition: português
320 p
13,7 x 21 cm
382 g
ISBN 9788532611482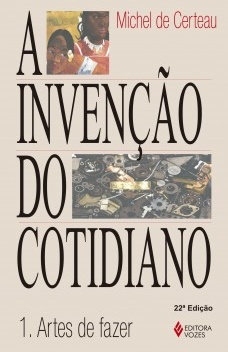 about the book
Certeau trabalha o fundamento básico do conceito cotidiano. Aborda a questão da linguagem comum, chegando à linguagem científica. Na prática do cotidiano trabalham autores como Freud, Wittgenstein, Foucault, Bordieux e Kant.
about the author
Michel de Certeau

how to quote
CERTEAU, Michel de.
A Invenção do cotidiano
.
Vol. 1: artes do fazer
. volume 1. 20ª edição, , Vozes, 2011.
comments
A Invenção do cotidiano
outros livros
share