Brasília uma questão de escala
Brasília uma questão de escala
Matheus Gorovitz
Projeto Editores Associados Ltda, São Paulo; 1ª edição, 1985
edition: português
paperback
72 p
23 x 20 x 0,8 cm
300 g
illustrated
B&W
photos
drawings
ISBN 9000000956872
CDD 711.40981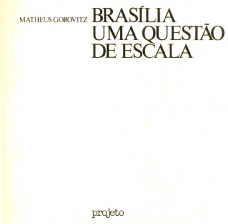 about the book
Situar Brasília no contexto da Arquitetura Moderna exige não apenas identificar características que a filiem aquele movimento, mas também, e principalmente, destacar suas peculiaridades, o que nos autorizaria a reconhecer, por extensão, uma expressão brasileira específica daquele movimento. Este trabalho trata dessa especificidade.
about the author
Matheus Gorovitz

how to quote
GOROVITZ, Matheus.
Brasília uma questão de escala
. São Paulo, Projeto Editores Associados Ltda, 1985.
comments