La matérialité de l'architecture
La matérialité de l'architecture
Antoine Picon
Parenthèses, Paris; 1ª edição, 2018
edition: français
paperback
144 p
16.6 x 24 cm
illustrated
fullcolor
photos
ISBN 978-2863643204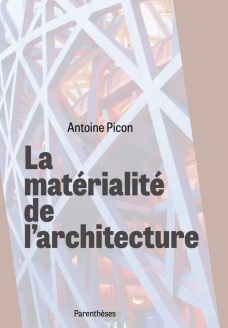 about the book
L'architecture travaille la matière afin de la rendre expressive. Elle se heurte ce faisant à son obstination muette qu'elle tente de dépasser. Partant de ce constat, ce livre propose de l'interpréter à la lumière de la notion de matérialité envisagée comme le rapport que nous entretenons avec les phénomènes sensibles, les matériaux et les objets. Notre subjectivité d'êtres humains se constitue pour partie au travers de cette rencontre avec toutes ces «choses» qui tombent immédiatement sous le sens. Par leur intermédiaire, l'architecture contribue à la création d'un monde destiné spécifiquement aux hommes. L'interprétation de la matérialité permet une autre lecture de l'histoire de l'architecture pour comprendre les enjeux actuels, comme ceux qui s'attachent à la révolution numérique.
about the author
Antoine Picon
Is the G Ware Travelstead Professor of the History of Architecture and Technology and Co-Director of Doctoral Programs at Harvard Graduate School of Design (GSD). He is Director of Research at Ecole Nationale des Ponts et Chaussées, Paris.
how to quote
PICON, Antoine.
La matérialité de l'architecture
. Paris, Parenthèses, 2018.
comments
La matérialité de l'architecture
outros livros
share