Palladio e o Moderno
new
Palladio e o Moderno
José Miguel Rodrigues
Circo de Ideias, Portugal; Primeira Edição, 2020
edition: português
paperback
108 p
14 x x 23 cm
illustrated
fullcolor
photos
drawings
ISBN 978-989-54636-1-9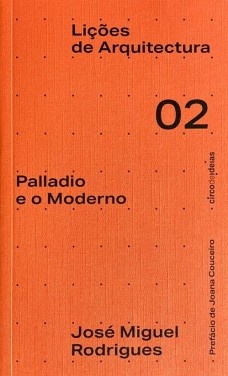 about the book
Este livro, publicado pela editora Circo de Ideias, com autoria de José Miguel Rodrigues e prefácio de Joana Couceiro, reúne dois ensaios numa única lição: a aula pública com o título «Palladio e o Moderno», apresentada no âmbito de uma prova de agregação em História da Arquitectura Moderna, e a sua sequela, a propósito do pensamento arquitectónico de Eduardo Souto de Moura.
O livro faz parte da colecção «Lições de Arquitectura», um projecto editorial que pretende reunir um conjunto de aulas que retratam o pensamento contemporâneo sobre a teoria e a prática da arquitectura.
O projecto editorial contou com o apoio da Fundação para a Ciência e a Tecnologia e do Centro de Estudos de Arquitectura e Urbanismo da Faculdade de Arquitectura da Universidade do Porto.
about the author
José Miguel Rodrigues

how to quote
RODRIGUES, José Miguel.
Palladio e o Moderno
. volume Segundo Volume. Primeira Edição, Portugal, Circo de Ideias, 2020.
comments