CyberParks – The Interface Between People, Places and Technology
CyberParks – The Interface Between People, Places and Technology
New Approaches and Perspectives
Carlos Smaniotto Costa, Ina Šuklje Erjavec, Therese Kenna, Michiel de Lange, Konstantinos Ioannidis, Gabriela Maksymiuk and Martijn de Waal (Orgs.)

Cost – European Cooperation in Science & Technology, Springer Open, ; 1ª edição, 2019
edition: english
323 p
ISBN 978-3-030-13416-7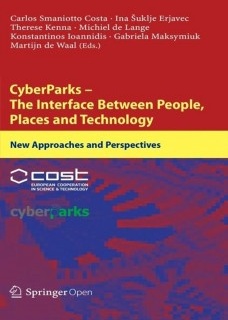 about the book
O projeto europeu CyberParks (Ação COST TU1306) publicou os resultados finais pela Springer, sob o formato de e-book. Este trabalho resume as reflexões do projeto, apresentando uma coletânea de textos organizados pelo conselho editorial liderado por Carlos Smaniotto Costa, coordenador do projeto e investigador do Centro de Estudos Interdisciplinares em Educação e Desenvolvimento da Universidade Lusófona, Lisboa.
Este e-book de acesso livre, aborda as temáticas dos espaços públicos abertos, das pessoas e relações socio espaciais e do papel da tecnologia digital nessas relações. Os 24 capítulos, escritos por grupos interdisciplinares e transnacionais, decorrem sobre diferentes abordagens, métodos, estudos empíricos e preocupações sobre um fenómeno que está cada vez mais no centro das ciências sociais – a ubiquidade das tecnologias digitais no espaço urbano.
O livro está disponível em formato digital.
about the author
Carlos Smaniotto Costa

Ina Šuklje Erjavec

Therese Kenna

Michiel de Lange

Konstantinos Ioannidis

Gabriela Maksymiuk

Martijn de Waal

how to quote
COSTA, Carlos Smaniotto; ERJAVEC, Ina Šuklje; KENNA, Therese; DE LANGE, Michiel; IOANNIDIS, Konstantinos; MAKSYMIUK, Gabriela; DE WAAL, Martijn (Orgs.).
CyberParks – The Interface Between People, Places and Technology
.
New Approaches and Perspectives
. , Cost – European Cooperation in Science & Technology, Springer Open, 2019.
comments
CyberParks – The Interface Between People, Places and Technology
outros livros
share

Lusófona University Press, 2019