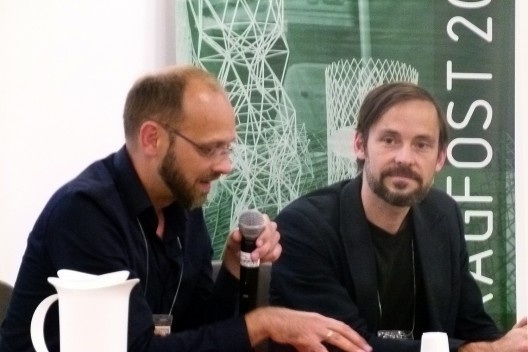 Both Tobias Walisser and Oliver Tessmann came to Brazil in September 2016 to participate in the 7th Brazilian-German Frontiers of Science and Technology Symposium, a joint program between Alexander Von Humboldt Foundation and the Brazilian Federal Agency for Support and Evaluation of Graduate Education – Capes (1). The symposium is held alternately in Brazil and Germany and brings together 60 outstanding, specially selected young researchers from different fields (30 each from Germany and Brazil). The conference aims at stimulating an exchange of ideas across disciplinary as well as national boundaries and, at the same time, provides opportunities for future binational collaborations and networking.
In 2016 the event was hosted by Gabriela Celani, from the University of Campinas, and Olfa Kanoun, from Chemnitz University of Technology. It was held at the National Center of Research in Energy and Materials – CNPEM, which groups together national laboratories in the areas of bioethanol, biosciences and nanotechnology, and the only Latin American synchrotron light source. CNPEM is currently engaged in the construction of a new internationally competitive synchrotron ring, which will be called Sirius. The architectural project was developed by Paulo Bruna Arquitetos Associados (2).
The topics selected for the 2016 symposium were "Water availability for sustainable development", "Smart sensors – Between technologies and application fields", "Automation and its implications in employment and education" and "Digital fabrication and the construction industry". The last topic was chaired by Milos Dimcic from Programming Architecture (3) and Márcio Minto Fabricio, from the University of Sao Paulo at Sao Carlos, who respectively coordinated a German and Brazilian teams of architects and engineers, formed by Eduardo de Senzi Zancul (University of Sao Paulo), Felipe Tavares da Silva (Federal University of Bahia), Gonçalo Castro Henriques (Federal University of Rio de Janeiro), Kristian Hildebrand (Beuth University of Applied Sciences Berlin), Oliver Tessmann (Technische Universität Darmstadt), Regiane Trevisan Pupo (Federal University of Santa Catarina), Roberto Cesar Cavalcante Vieira (Federal University of Ceará), Tobias Wallisser (State Academy of Fine Arts, Stuttgart), and Ursula Kirschner (Institute of Urban and Cultural Area Research).
Prior to the event, Gabriela Celani showed Tobias Wallisser and Oliver Tessmann around in Sao Paulo. The tour started at Copan building (Oscar Niemeyer), where both were staying, comprised the city's downtown, with Praça das Artes (Brazil Arquitetura), Praça Patriarca (Paulo Mendes da Rocha) and Martinelli Building (with a panoramic view of the city), the Minhocao, an elevated artery, Sesc Pompeia (Lina Bo Bardi), Ibirapuera Park (Oscar Niemeyer and Burle-Marx), and Masp (Lina Bo Bardi). After the tour, they met Rafael Urano, another professor of Architecture from the University of Campinas, for a chat about their impressions about the city's architecture and about Wallisser's office recent prize, granted by the Chicago Athenaeum. The talk also included one of the topics discussed in Bragfost: how digital technologies in general and digital fabrication in particular are affecting the architect's work and the construction industry.
notes
1
For access to all the participants names and to the full video coverage of their talks: Brazilian-German Frontiers of Science and Technology Symposia – Bragfost 2016, Campinas, 20 a 23 de setembro de 2016 <http://bragfost2016.fec.unicamp.br>.
2
Sirius – Acelerador de partículas do Laboratório Nacional de Luz Sincroton (LNLS) <www.paulo-bruna.com.br/sirius>.
3
See interview previously published in Vitruvius: CELANI, Gabriela. Learning from other people's mistakes. Interview with Milos Dimcic. Entrevista, São Paulo, year 16, n. 064.05, Vitruvius, dec. 2015 <www.vitruvius.com.br/revistas/read/entrevista/16.064/5824/en_US>.