Excepcionalidade do modernismo brasileiro
Excepcionalidade do modernismo brasileiro
Fernando Luiz Lara
Pensamento da América Latina

Nhamerica Platform, Romano Guerra, São Paulo/Austin; 1ª edição, 2018
edition: português
paperback
256 p
12 x 17 cm
B&W
photos
ISBN 978-85-88585-75-1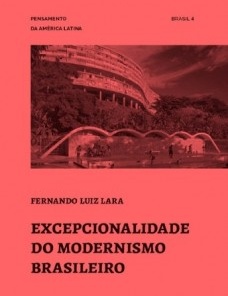 about the book
O livro reúne uma dezena de textos escritos em ingles por Frenando Luiz Lara entre 2006 e 2014, publicados aqui pela primeira vez em português. O eixo condutor destes dez ensaios é o esforço de posicionar a arquitetura brasileira no contexto mundial sob as lentes do processo decolonial e do campo expandido da arquitetura, ou seja, sem se submeter ao eurocentrismo dos séculos passados e entendendo como digno de estudo a totalidade do espaço construído. Os ensaios discutem então, por diferentes ângulos, o que haverá de excepcional na arquitetura moderna brasileira.
about the author
Fernando Luiz Lara
Brazilian architect with degrees from the Federal University of Minas Gerais (BArch, 1993) and the University of Michigan (PhD, 2001). At the University of Texas at Austin he teaches seminars on Latin American architecture and urbanism.
how to quote
LARA, Fernando Luiz.
Excepcionalidade do modernismo brasileiro
. Pensamento da América Latina, volume 4. São Paulo/Austin, Nhamerica Platform, Romano Guerra, 2018.
comments
Excepcionalidade do modernismo brasileiro
outros livros
share

University of Texas Press, 2015