Viagens
Viagens
Sonia Marques and Eliane Lordello
Trevo, São Paulo; 1ª edição, 2020
edition: português
paperback
42 p
illustrated
fullcolor
drawings
ISBN 9786558510192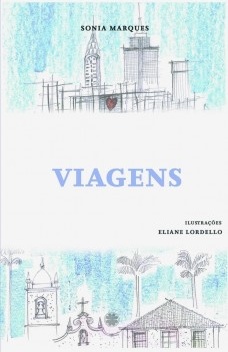 about the book
Nos livros Fugas e Viagens, Sonia Marques (poemas) e Eliane Lordello (ilustrações) reúnem uma conversa sobre o estar no mundo, evocando paisagens e vivências.
about the authors
Sonia Marques
Arquiteta e urbanista (1973), mestre (1983) e doutora (1997) em Sociologia. Professora no Brasil (UFPE, UFRN, UFPB, UFBA) e no exterior (Universidades de Montreal e UT-Austin). É tradutora pública de francês e poeta premiada.
Eliane Lordello
Arquiteta, mestre (Arquitetura) e doutora (Desenvolvimento Urbano). Servidora pública municipal há 28 anos, atua na área de Patrimônio. Tem textos e desenhos publicados em vários periódicos. É membro do corpo editorial do portal Vitruvius.
how to quote
MARQUES, Sonia; LORDELLO, Eliane.
Viagens
. São Paulo, Trevo, 2020.
comments
Viagens
outros livros
share