Fundamentos de morfologia urbana
Fundamentos de morfologia urbana
Staël de Alvarenga Pereira Costa and Maria Manoela Gimmler Netto
C/Arte, Belo Horizonte; 1ª edição, 2017
edition: português
paperback
236 p
29 x 21,5 cm
B&W
drawings
ISBN 978-85-7654-302-2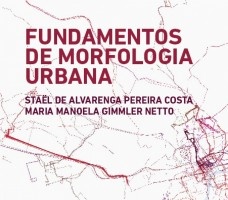 about the book
Este livro é dirigido principalmente aos estudantes e profissionais de arquitetura, urbanismo e paisagismo, mas também a todo indivíduo que tenha interesse em compreender a Morfologia Urbana, ou seja, o estudo da forma das cidades. Porém, para isso, é necessário reconhecer que a forma urbana é resultado de um processo, construído ao longo do tempo, por determinada sociedade em seu lugar. Este é, portanto o objetivo deste livro, investigar o processo de formação e transformação das paisagens urbanas.
about the authors
Staël de Alvarenga Pereira Costa
Arquiteta pela UFMG, onde é professora. Estuda morfologia urbana no Brasil, com atividades de docência e pesquisa. Cursou o mestrado do Centro Integrado de Desenho Urbano da Oxford Brookes University.
Maria Manoela Gimmler Netto
Arquiteta e urbanista pela UFMG, docente universitária e pesquisadora do Laboratório da Paisagem da Escola de Arquitetura e Urbanismo da UFMG.
how to quote
COSTA, Staël de Alvarenga Pereira; NETTO, Maria Manoela Gimmler.
Fundamentos de morfologia urbana
. Belo Horizonte, C/Arte, 2017.
comments
Fundamentos de morfologia urbana
outros livros
share