A árvore do conhecimento
A árvore do conhecimento
As bases biológicas do entendimento humano
Humberto Maturana and Francisco Varela
Psy, Campinas; 1ª edição, 1995
original title: Der Baum der Erkenntnis: Die Biologischen Wurzeln des menschlichen Erkennens
translator: Jonas Pereira dos Santos
edition: português
paperback
282 p
ISBN 9788585480219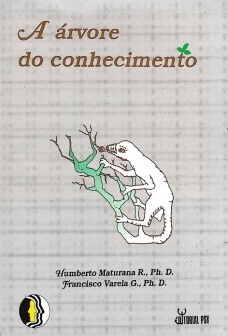 about the book
A nossa vida vista por estes grandes cientistas e filósofos, como um processo de busca e aquisição de conhecimento construído ao longo das interações no mundo. Uma concepção original e desafiadora criada no rigor científico, mas ao mesmo tempo na combustão calorosa da insondável e arriscada aventura humana cujas consequências éticas começam a ser percebidas com crescente nitidez, que faz repensar a pedagogia, a psicologia, a sociologia, a economia e a comunicação.
about the authors
Humberto Maturana

Francisco Varela

how to quote
MATURANA, Humberto; VARELA, Francisco.
A árvore do conhecimento
.
As bases biológicas do entendimento humano
. Campinas, Psy, 1995.
comments
A árvore do conhecimento
outros livros
share