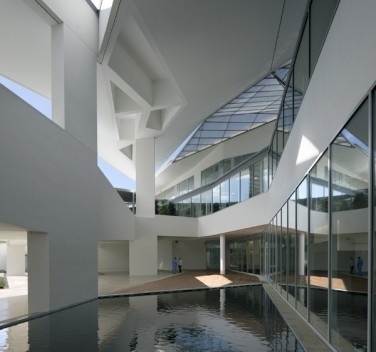 Duccio Malagamba's name is worldwide known for the quality and accuracy of his work, and is identified as one of the most stringent architecture photographers. At a time when digital photography has accelerated the profusion of images and increasingly affordable cameras end up in the hands of amateurs, the magazines have been lowering the quality of the work of the photographer, losing accuracy and dedication.

Duccio's photos emphasize the old school, the digital computer is for him only a new tool within a method that appraises accuracy, and his work is carefully prepared to get a full X-ray of the work of an architect. Duccio is a photographer who often spends between 2 and 7 days on each essay, depending on weather conditions and the complexity of the project. That allows him to carefully consider the light throughout the cycle of day and look for unusual perspectives, in addition to studying the interaction of users inside the buildings.
In that sense, he advocates for the concept of "photographic essay", which is the result of several days dedicated to a single building. The notion of essay also applies to his particular hard work on the work of certain architects, with whom he has worked on many occasions, like Alvaro Siza, Herzog & de Meuron and Rafael Moneo. Although some of the photos are not results of specific assignments, Duccio devotes his time to pursue the career of these architects, feeling genuine fascination for their buildings.
The first contact we had with the work of Duccio Malagamba was through Nelson Kon, an architecture photographer who lives in São Paulo (
interview n.043.02 in Vitruvius
). They both met in Porto Alegre for the opening of the Fundação Iberê Camargo. This interview is the result of a series of conversations we had in his office in Barcelona.