Walkscapes
Walkscapes
El andar como práctica estética
Francesco Careri
Land&Scape

Gustavo Gili, Barcelona; 1º edición, 2009
edition: español
paperback
205 p
15 x 21 x 1,5 cm
550 g
illustrated
ISBN 978-84-252-1841-5
()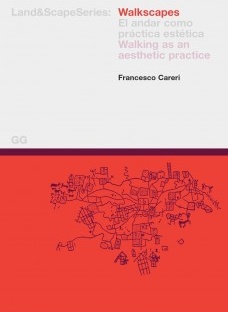 about the book
Walkscapes trata del deambular como arquitectura del paisaje. Caminar como forma de arte autónoma, acto primario de transformación simbólica del territorio, instrumento estético de conocimiento y modificación física del espacio 'atravesado' que se convierte en intervención urbana. Del nomadismo primitivo al dadaísmo y el surrealismo, de la internacional letrista a la internacional situacionista y del minimalismo al land art, este libro narra la percepción del paisaje a través de una historia de la ciudad recorrida.
about the author
Francesco Careri
Artista, arquitecto y miembro del Laboratorio Stalker y del Osservatorio Nomade di Roma. Se licenció en la Università La Sapienza de Roma. Es profesor de arquitectura en la Università degli Studi di Roma Tre.
how to quote
CARERI, Francesco.
Walkscapes
.
El andar como práctica estética
. Land&Scape, 1º edición, Barcelona, Gustavo Gili, 2009.
comments
Walkscapes
resenhas desse livro
por Thiago Costa
outros livros
share