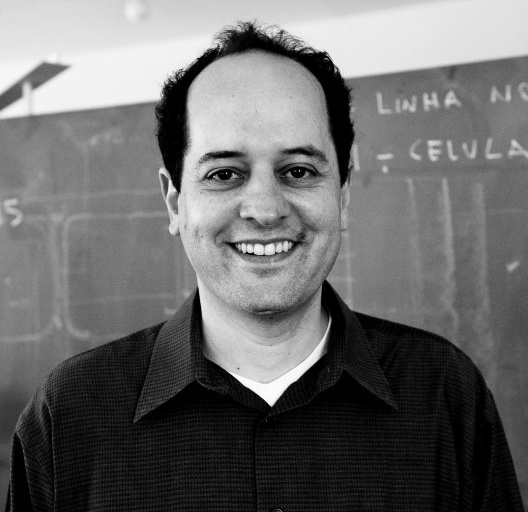 Angelo Bucci
Arquiteto, mestre e doutor pela Universidade de São Paulo (1987, 1998 e 2005). Honorary Fellow of the American Institute of Architects – HF AIA (EUA, 2011). Fundador e sócio do MMBB arquitetos (São Paulo, 1996 a 2002). Fundou e dirige até hoje o escritório SPBR Arquitetos (São Paulo, 2003). Professor da Universidade de São Paulo FAU USP (desde 2001) e professor visitante de diversas universidades estrangeiras: MIT, Cambridge (EUA, 2008; 2016), ETH Zurich (Suíça, 2013-2014), Yale University (EUA, 2013), Torcuato Di Tella (Argentina, 2006; 2010), The University of Texas at Austin (EUA, 2010), Università IUAV Venezia (Itália, 2008; 2009), Harvard Graduate School of Design (EUA, 2008), Universidade de Cuenca (Equador, 2005; 2007), University of California, Berkeley (EUA, 2006), Arizona State University (EUA, 2005), Andres Bello University (Chile, 2005). Foi membro do júri do Holcim International Sustainable Construction Award (2011).
Roberto Boettger
Arquiteto formado pela Architectural Association, baseado no Rio de Janeiro e em Londres. Trabalhou na Holanda no escritório OMA e colabora com as revistas Domus, The Architectural Review e AU.
Olivia Marra
Arquiteta formada pela UFRJ, com pós-graduação pelo Berlage Institute. Trabalhou no escritório L'AUC em Paris, e atualmente escreve sua tese de doutorado pela Architectural Association, em Londres.
Entrevista
A entrevista ocorreu durante a abertura do pavilhão do Arsenale, no dia 28 maio de 2016. A entrevista contou com a participação do entrevistado Angelo Bucci, dos entrevistadores Roberto Boettger e Olivia Marra, e de Ciro Miguel, um dos arquitetos colaboradores do escritório SPBR.
Exposição
The Biennale Architettura Venezia 2016, "Reporting from the front", curadoria de Alejandro Aravena, Giardini e Arsenale, Veneza, Itália, de 28 maio a 27 de novembro de 2016. A exposição sobre o futuro do Museu de Arte Moderna – MAM de São Paulo, de Angelo Bucci e escritório SPBR, foi montada no Arsenale.