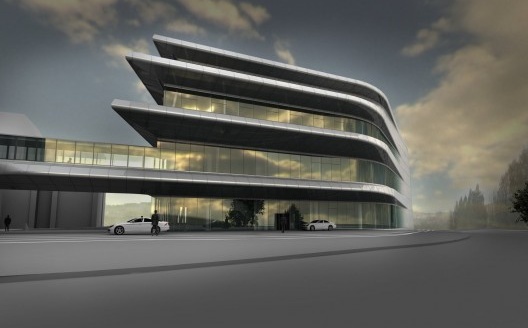 Maycon Sedrez: I am doing the research about fractals and the design process and how you can produce complexity in the architectural design. I saw some projects that you participated; can you tell me about your work and your experiences with complex geometry and complexity in the design?
Florian Gauss: My first experiences with complex shape started when I was a member of the Advanced Geometry Unit in London at Arup, which was led by Cecil Balmond. Of course he was very much interested in complex shapes and form generating algorithms, such as fractals. Therefore we had a lot of design motivate projects using algorithms and geometrical systems in order to generate shapes and create designs. At Arup we more or less worked in the front-end of the design to generated and create complex shapes. I left London at some point and went back to Stuttgart and led the geometry group at Werner Sobek. And it was much more focused on realization of complex shapes. The design was already given by others, the design architects, like Zaha Hadid or Jean Nouvel. And we were responsible to realize the given design in the end product. It was more about computation, producing all the information which you will require to be able to construct the façade mainly.
MS: What are the types of files that you work? I mean, is it Rhino and Grasshopper, Revit, AutoCAD? Do you have to make changes in the design to be able to produce the project?
FG: In principle yes. Usually you always have to make changes. This is just absolutely normal because the design it is a progress, it is a path, starts with an initial sketch, you move forward and you always go deeper in more detail. Of course the consultants are going to stop at some point for the reason they are not paid for this work. They just have to take to the certain point, and then another party has to take it over. So if you want to build it, you always have to rationalize and maybe change it slightly whatever is required. And what kind of files you submit: AutoCAD, Rhino Models, IFC (1) Models are getting more common now, coming out of Tekla or Revit.
MS: Do you think there are advantages in using Rhino and Grasshopper combined?
FG: I think that Rhino with Grasshopper is the most powerful design tool in the market at the moment. About ten years ago we really started to working intensively with Rhino, and when I came in to AGU (2) there was scripting, there was no Grasshopper, there was a little bit of Generative Components which we worked very well, there was of course CATIA. But that is very complex and CATIA is not a design tool, is a fabrication and realization tool. Therefore, initially at the time I came to AGU scripting was in AutoCAD using VBA, Visual Basic for Applications. Which was ok, but AutoCAD wasn't such a good 3D software. Then we kind of realized quickly we could also script on Rhino in the same way. So we did all the scripting in Rhino. For example for the Grand Egyptian Museum, for the fractal geometry of the translucent stone wall, the geometry was scripted in Rhino and also the file for structural analysis was also generated with a Rhino script. So the input for the structural software is just a text file which you take the information out of the model and dumped into a text file and you open it with the structural software.
notes
1
IFC – Industry Foundation Classes.
2
AGU – Arup's Advanced Geometry Unity.