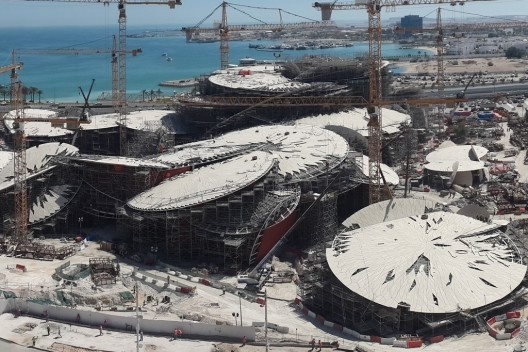 Currently architects are designing and building complex shapes using programming as a design tool. In this conversation the engineer Florian Gauss explains the programming process design of a façade with fractal geometry. He also gives details of the manufacturing process of a project from Zaha Hadid with complex shapes.
In the first part of the interview, Florian talks about the design process using fractal geometry. Fractals are complex shapes that are generated by simple rules. The architects of the Grand Egyptian Museum used a classic fractal, the Sierpinski triangle. It is common for architects to use fractals when it is convenient, in this case to relate with the pyramids. Computer-implemented fractals have been applied to architecture for more than 30 years, but not always in an appropriated way. Recently, the interest of architects in geometry, mathematics, computational design and ornament has brought fractals to architectural shapes again.
By Florian's answers it is clear that architects must know how to program. Programming has become in the last decades an important tool for architects and engineers. Rhino and Grasshopper (visual programming) are a combination of tools which helps with generation of shapes, but programming is essential to produce files for digital fabrication. The design process of the Heydar Aliyev Cultural Center was partially automated; Zaha Hadid chose not to rationalize the surface. This generated totally different façade panels and a special substructure to support it. It also demanded a person to manually model the substructure for six months. Despite all the automation involved in the design process, it was still was cheaper to hire human labor from India to produce each panel. Because we are still learning how to produce complexity, these situations tends to become less common. And the education of architects and engineers needs to approach these two aspects, the programming skills and the automation in construction, to fulfil the gaps between the design and the fabrication.